3 Ways to Get a Chamfered Edge for an Aluminum badge
When it comes to the design of aluminum badges and branding the main element of discussion is usually the top surface which is where the logo or tagline will be placed. Another design element is what the sides of the badge will look like. Many times it will be important for the badge to have a finished edge and lately requests have been trending towards a chamfer or bevel edge versus a straight cut. Here are three ways to achieve the chamfered edge for your aluminum emblem.
1. Custom Tooling with Multi-Level Embossed Aluminum
This type of edge for aluminum badges requires review of CAD dimensional files in order to configure and build customized tooling to achieve the desired chamfer angles. The metal is cut, embossed and formed to the specific geometry. The resulting edges are softer than a straight step up angle for the height of the level. A molded spacer may be needed on the backside to fill in the gap between the mating surface and adhesive for attachment.
2. Custom Tooling with Standard Embossed Aluminum
If a multi-level badge is not needed, a beveled edge can be created with a standard emboss tool. As with the multi-level tool, this option requires a custom tool created after review of CAD dimensional files. The metal is cut to shape and then embossed to the necessary angles. This can be used for outside borders as well as prominent logo or graphic elements. Typically a foam adhesive will be used for attachment to the end product with this type of aluminum badge.
Each of the first two options to achieve a chamfered edge for aluminum badges listed above requires a custom tool. If your budget does not allow for that investment, there is an alternative.
3. Brushed Aluminum with Halftones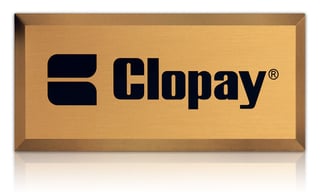 The surface of the aluminum can be brushed in multiple angles for a beveled look. Printed halftones add to the visual element and further define the dimension. This type of decoration can be used with existing stock dies which can save upfront tooling cost. Standard pressure sensitive adhesive can be applied for attachment to the product. The nameplate remains flat and does not have the physical height of the tooled badge.
Aluminum Badges with Chamfered Edges
As you can see, more than one option exists in order to make product branding that has a chamfered edge. Custom tooling will require review of your CAD dimensional files and need to allow for money and time to build. Alternatively flat nameplates can give the illusion of angled edges. Any of these can result in attractive brand identification for your product.
Have a nameplate design that you'd like to review with us? Let's talk!
Subscribe to Nameplate Blog