Standardized Nameplates and Labels
One of the basic elements of nameplate and label design is to define the objective or purpose for your identification. If your company has one product, this may be obvious and you would expect there to be some sort of logo or company name shown. This may not be as clear when there are multiple products or brands within a company, such as subsidiary or affiliate brands.
Does this mean you send the idea of a nameplate to the trash can? Not at all. Instead, take a look at ways to accomodate branding across the board.
Standardize Your Nameplates and Labels
An economical solution for companies who have multiple brands for their products is to identify a universal size and shape for standard labels and nameplates. This allows your products to have recognizable labeling which can enhance your brand awareness in the market. You also can take advantage of standard placement of logos and taglines to further strengthen your marketing efforts.
The labels shown below are great examples of the possibilities to maximize tooling and offer different looks across similar products. Decoration options are as wide as your imagination. Each variance in color and artwork does require a unique part number and separate production runs.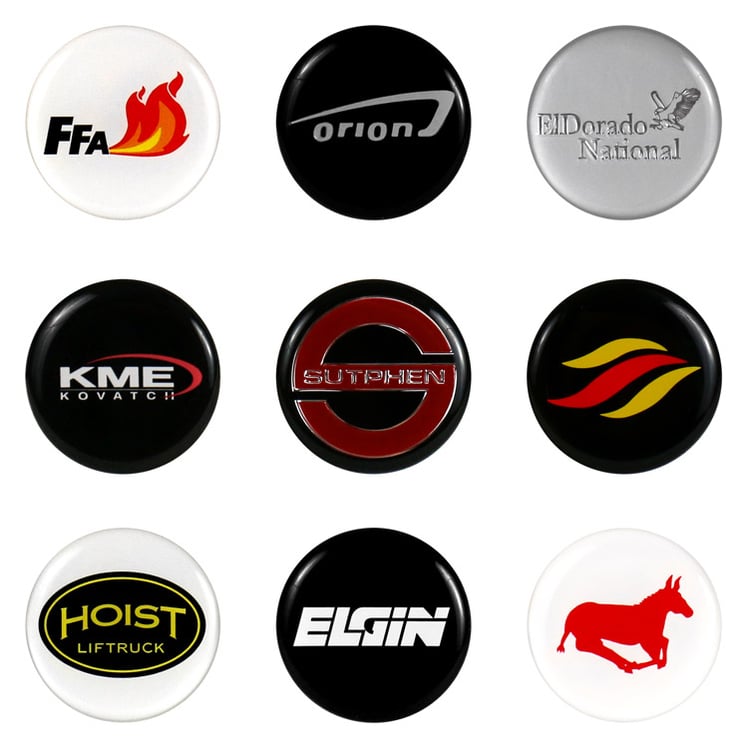 Considerations for Multiple Branding Options for Nameplates and Labels
It is important to keep the following considerations in mind when you are designing standard nameplates across multiple brands once you have defined the size and shape.
Set up Cost - each new design will require separate artwork and preparation costs. These costs are applicable to the first run of the new design. Regular repeat orders are not charged the setup cost.

Production Cost - each unique decoration will require a separate part number and be run as a separate item. Minimum order values will apply and are dependent on the decorating processes used in production.

Production Lead Time - each release or purchase order line will be reviewed for best possible schedule. New designs may require additional time to allow for proof approval. Your timing needs should be reviewed with your Customer Service Representative.
There is no cause for worry when it comes to carrying a brand strategy across a variety of product names, logos or brands. Creating a standard size and shape for nameplates and labels allows you to retain consistency and maximize tooling investment. Each brand can then be customized with the specific logo or text to reach the target audience.
Can you incorporate standard labeling with customized graphics in your brand identification? Let's talk!
Subscribe to Nameplate Blog