Color Definition for Aluminum Nameplates | Background or Graphics?
Defining color for your nameplate may seem like an easy element in the design. It is important to consider whether the color called out is to be used for background or graphic decoration. The same color can look quite different depending on the substrate and amount of coverage. Overlooking this part of your design can mean costly changes and delay production or launch of your product.
So how do you know if you should call out color to be for background or graphics for your nameplate? Many times your logo will give an obvious answer. The nameplates below show how logo design can translate directly to your nameplate design. Each nameplate takes on the shape and styling of the respective logo.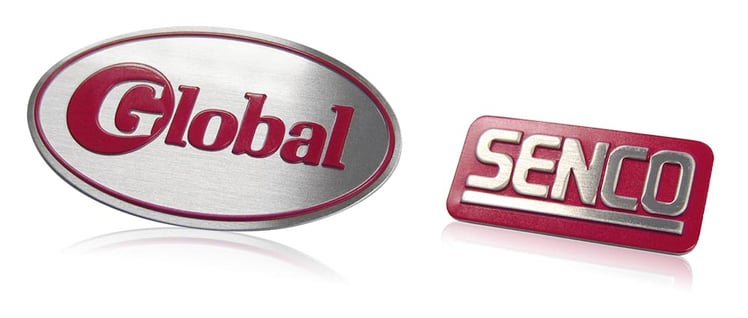 A nameplate does not have to be defined by the shape of the logo. Sometimes the product or model name is what is important to show on the label. When this is the case, the color callout for graphics or background decoration is in the eye of the beholder. The pink color in the below aluminum nameplates is the same. Both are legible and attractive. However there is a distinct visual difference between them.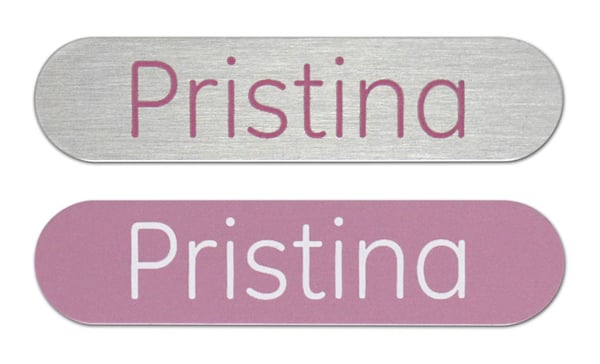 Concept drawings for mockup, color chips or prototypes may be provided to help review and make a decision. These options should be discussed with your Customer Service Representative and may require some investment.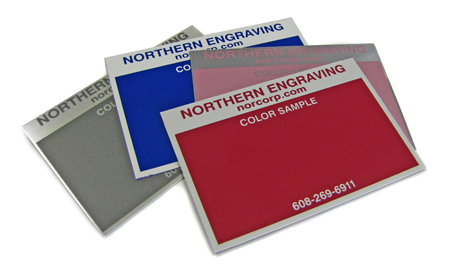 Ultimately the decision is up to you and how you want your nameplate to look. Taking the time to evaluate and consider the different options for color definition will save time and money while ensuring your nameplate showcases your brand in the correct way.
Have a nameplate design that you want to review? Let's talk!
Subscribe to Nameplate Blog