Nameplate Archive | Aluminum Novelty Keepsake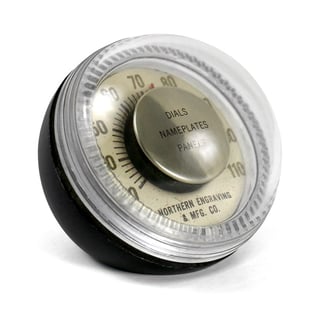 This article is part of a series of articles from my co-workers on their favorite nameplates. Billie Theobald, our guest blogger this week, came across an aluminum novelty keepsake.
"One of my favorite pastimes is looking for unusual items at flea markets and estate sales. Recently, my husband found a true treasure."
"Northern Engraving has been in business well over 100 years. Over those years we did not take part in much novelty advertising – making this paperweight rather unusual. Northern has been a long loyal supplier to Honeywell for many years and continue to supply the aluminum gauges for their thermostats. Although design has changed, this thermostat will always be an icon in America. This working thermometer reminds me of the many years of transition and customer loyalty our company represents."

Billie Theobald Regional Sales Manager
Billie is a Regional Sales Manager, working closely with the designers and engineers of key accounts, keeping relationships strong. She has extensive history within the cosmetic and packaging industries.
Can we help you create a timeless treasure for your brand? Let's talk!
Subscribe to Nameplate Blog