Embossed Aluminum Nameplate #3 in Series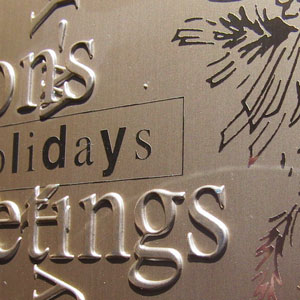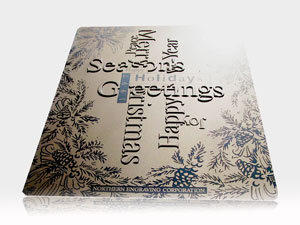 This article is the third in a series featuring three-dimensional embossing on aluminum. The example shown here is from one of our aluminum holiday cards. It highlights the effective use of a blind emboss. A blind emboss utilizes the same finish on the embossed graphics and the background for a subtle effect. The finish used here is an anodized gold surface. The text in this graphic is embossed in multiple layers giving the illusion of being placed one on top of another in layers. How would you use this type of emboss on a nameplate?
Related Articles on Embossing Metal Nameplates
Options in Embossed Metal Nameplates
Embossed Aluminum Nameplate
Embossed Aluminum Nameplate #2 in Series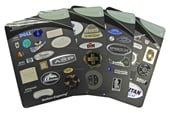 Request a Nameplate Materials and Processes Guide to begin exploring the options available to you in creating your product branding.
Subscribe to Nameplate Blog