Kirra New Blue Perfume Aluminum Nameplate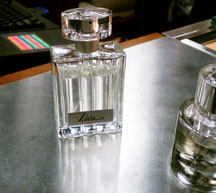 Over the weekend, I was at the local Shopping Mall and decided to stroll into the PacSun store. I located this bottle of perfume that PacSun recently introduced. Northern Engraving manufactured the nameplate on the bottle.
The aluminum nameplate with raised ink, creates an embossed look. I love the silver nameplate on the clear glass bottle. PacSun's audience is young and on trend. Their focus is to stay true to their roots - which was a little surf shop in Newport Beach in 1980 - and offer what's next now.
Check out more cosmetic product packaging examples that Northern Engraving has been part of. From nameplates to compact inserts, our designers can help you create a unique and custom innovative piece for your next cosmetic project.
Subscribe to Nameplate Blog