Consistency in Product Branding with Nameplates
HP Nameplate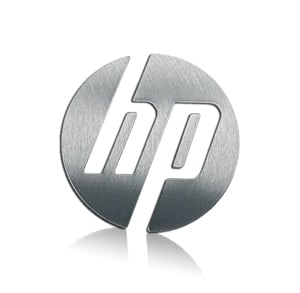 One of the key facets of a great brand is that it delivers on consistency. The manifestation of the brand or the way in which the promise and values are communicated occurs in many ways. Product branding with nameplates and labels is one of the vehicles for delivering a brand's message. This can become complicated when the brand covers a wide variety of products designed and manufactured throughout the world. HP meets the challenge with consistent aluminum badging for its consumer products ranging from printers and laptops to cameras and TVs.
One Nameplate in Multiple Sizes

A consistent image is represented with one logo available in multiple sizes to be used on the line of HP products. This logo uses the singular ID process to precisely align individual metal elements in the HP graphic. The aluminum is decorated with an engine stripe to enhance natural highlights and shadows in the metal. The silver nameplate coordinates with and is easily integrated into products in any color. A further economy with this approach to branding is the reduction in the total amount of part numbers. This in turn increases total volume by part number. Tooling and inventory costs are minimized while allowing price breaks for the higher volumes.
Subscribe to Nameplate Blog