Etch and Fill Aluminum Nameplate
Brunswick Pool Table Nameplates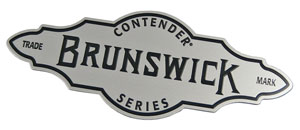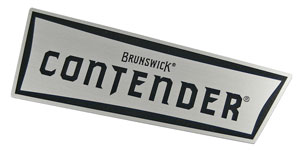 The etch and fill process is used on the Brunswick pool table nameplates to create product branding which reflects the world class service and attention to detail the furniture is known for. Brunswick offers pool tables ranging from legendary heirloom-quality furniture to traditional yet durable pool tables. Aluminum nameplates are used as an attractive durable addition to the game room furniture.
Etching is a process which uses chemicals to cut into the surface of the aluminum. The etch and fill process begins with a printed resist. Areas protected by the resist will not be effected by the etching process. The fill process involves depositing an opaque color into the etched areas of the metal. This process combines with the simple classic design of the Brunswick nameplates allowing them to be beautifully integrated into the furniture.
Process Color on Brass Nameplate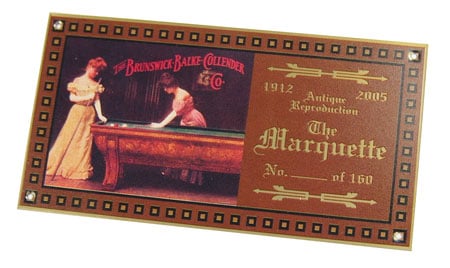 This brass nameplate takes a completely different approach in design. Process color is used to reproduce the vintage graphics and antique look on brass.
What processes would you use for a nameplate that represents a rich history a high standards of quality?
Subscribe to Nameplate Blog