Mack Trucks 100th Anniversary Badge
Anodized Diamond Cut Nameplate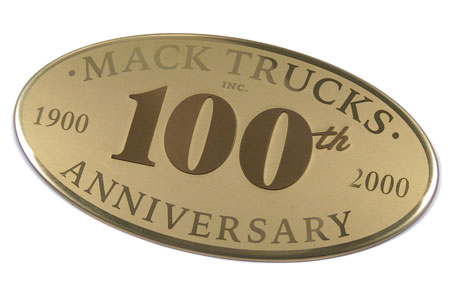 Mack Trucks celebrated their one-hundredth anniversary in style with a custom aluminum badge. The nameplate features a tone on tone gold surface. A low gloss gold background is accented with bright gold graphics and border. The eye-catching 100th graphic is embossed and diamond cut creating crisp dimension and a polished surface. The diamond cut surface is anodized gold to carry the gold theme across the graphics. The result is a premium look for the nameplate marking the heavy truck makers' anniversary.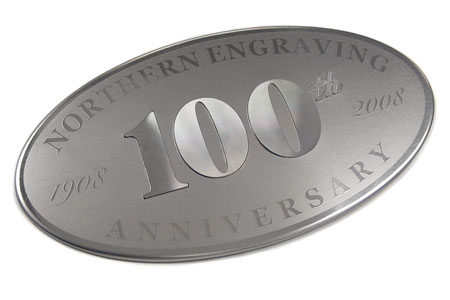 This nameplate illustrates how the same tooling can be used to created multiple looks. Updating the printed aluminum with new graphics and colors results in a different look. This example includes the diamond cut process but is not anodized. The bright aluminum and matte background compliment the silver diamond cut graphic.
What look would you prefer for an anniversary badge or nameplate? Bold and bright or premium elegance? What processes might be used to help you achieve the effect you are after?
Subscribe to Nameplate Blog