Designing HP 25th Anniversary LaserJet Badge
Aluminum HP Nameplate
When it's your 25th anniversary... you celebrate it with style. This is exactly how Hewlett Packard commemorated the anniversary of the laserjet printer with an anniversary edition badge designed for the printers.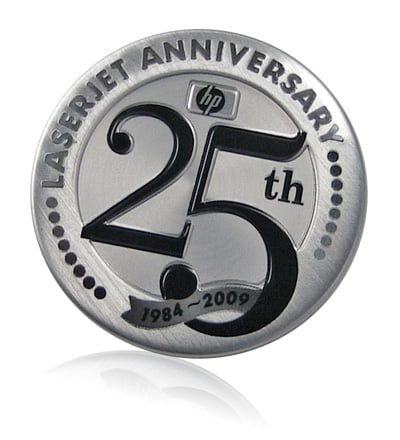 The first step in the process was the design of the logo and graphics. Once the graphic design was complete the next step was to choose an overall color scheme for the nameplate. HP wanted a high-end look, selecting silver and black for the badge. A visit to Northern Engraving along with creation of concept drawings and prototypes helped to facilitate further discussion on the many options available. The variety of elements in the 25th anniversary graphic allowed HP to integrate several processes into the nameplate creating an eye-catching jewel. The many silver finishes in the aluminum nameplate create an elegant tone on tone look with the use of a printed matte black accent. The manufacturing processes used to create the high-end badge include:
Spin: selectively applied with a mask
Diamond cut: fine zebra cut
Litho printing: halftones and graphics
Brush: selective diagonal
Emboss: multi-level
Adhesive: selective foam with tab
The final aluminum badge conveys a premium brand image. Multiple graphics and processes are combined to compliment rather than compete with each other. The short skirt on the perimeter of the nameplate finishes the part, hiding the raw aluminum edge. A tab on the adhesive facilitates assembly to the final product.
What processes would you use to create an anniversary edition badge?
Subscribe to Nameplate Blog