Need a Rugged Nameplate? Try Embossed Aluminum!
Embossed Aluminum = Rugged Durability
Electronics equipment that is exposed to regular knocks, drops and extreme wear and tear are usually recommended to be fitted with shock protection so the device becomes rugged. These products require product branding with nameplates and badges that will stand up to this type of exposure as well. If this fits your type of product, consider using embossed aluminum for rugged durability and long-lasting brand awareness.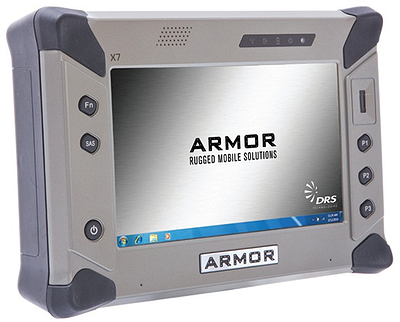 Harsh Environments Need Durable Nameplates
Designing an aluminum nameplate or badge for harsh environments means considering the badge during its product housing design. It's more than placing a sticker on the end product or pad printing a logo and calling it good. Aluminum can take your product and brand awareness to the next level while processing with protective topcoats ensures protection against exposure to the elements or scratches which can result from handling.
Embossed Dies for Aluminum Nameplates
Embossed aluminum provides raised areas in the metal and requires a custom tool. In the example above, the nameplate has embossed brushed aluminum background leaving the product brand at original height. Further detail in the emboss tool is achieved with tiny rivet-look elements throughout the brand name. The result is a premium, robust nameplate that will stand up to hard handling. The product housing allows for a recessed area to help with a place for the metal badge. Strong pressure sensitive adhesive is used to complete the attachment to the product.
The emboss operation is typically separate from the blank and requires precise registration for decoration. Emboss can be one level - meaning that each embossed feature is raised to the same height. If more detail is needed, other emboss options include multi-level, beveled and dimensional. The registration is perfected during the tool build with die trials performed before decoration of stock is scheduled. This ensures a repeatable, quality process for production orders.
Standard tolerances need to be taken into consideration for the emboss and its registration for any printing or decoration and the blank operation. Tolerance of ±.015" should be allowed between each embossed feature. Emboss height and registration to the blank should allow ±.005". Tolerances are subject to review on a case by case scenario.
Want to know more about tooling options for aluminum nameplates? Get your Aluminum Nameplate Tooling Guide.
Subscribe to Nameplate Blog