Hilfiger Metal Plaque with Riveted Corners
Fragrance Bottles - Riveted Nameplate
Aluminum nameplates designed with a riveted look create dimension and detail in the metal. Hilfiger by Tommy Hilfiger used embossing to create rivets in the nameplate. The riveted corners on the metal plaque were inspired by the rivets on motorcycles and vintage cars.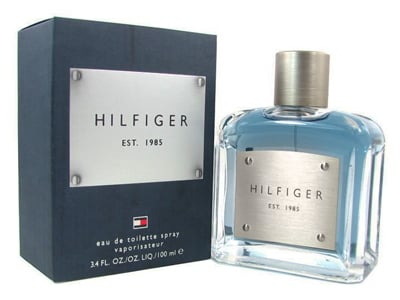 Coining was used to create an engraved effect for the Hilfiger graphic on the brushed aluminum. The year in which the fashion house was established was also coined into the metal. Coining is a form of precision stamping that involves the displacement of metal under compression to form simple and complex geometric shapes and graphics.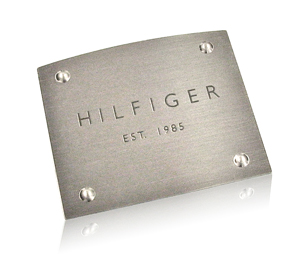 The plaque was affixed to the bottle using a clear UV-cured adhesive. Metal plaques, labels and nameplates for fragrance packaging require a battery of tests. Protective topcoats protect the metal and allow the aluminium plaque to meet product testing requirements. Tests for this plaque included aging at various atmospheric conditions, as well as product compatibility testing.
The Hilfiger fragrance packaging design stands out. What metal decorating options would you use to create outstanding packaging?
Subscribe to Nameplate Blog