New Badge Design | New Brand Image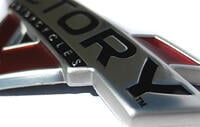 Paul Wuensch, a regional account manager for Northern Engraving, has recently been involved with the re-branding of Victory Motorcycles. Following the video is a short article describing the new Victory badge.
Badge Creation Process for Victory Motorcycles
Nameplates and badges are essential in the branding of a product. A badge tells a story and enhances the image the manufacturer is trying to convey. There is an evolution taking place at Victory Motorcycles, and they chose Northern Engraving to help them tell their story.
The new badges for Victory Motorcycles represent the product well. The use of metal is at the core of this new badge. Multi-level embossing, rich color and selective finishing add to the artistic character while leaving no doubt that these badges are more than just a label.
Northern Engraving designers and engineers worked closely with the design team at Victory Motorcycles to forge not only a new badge but a strong partnership between the two American manufacturers.
For more information on Victory Motorcycles visit: www.victorymotorcycles.com
Subscribe to Nameplate Blog