Embossed Aluminum Nameplate #1 in Series
Embossing Metal Nameplates
Virtually all products feature a company name or trademark as a symbol of the quality you expect to experience when purchasing the product. Using a nameplate to prominently position your brand in front of your customer allows you to precisely control that message. Embossing is a classic option for adding perceived value to your nameplate, badge or emblem. Embossing adds dimension to the nameplate. This article is the first in a series of four articles which focuses on options in three-dimensional embossing on nameplates. The examples used in this series are pulled from our collection of aluminum holiday cards.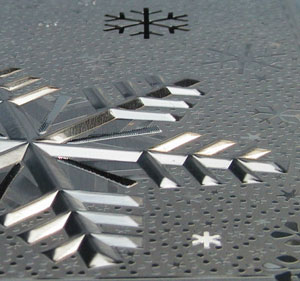 This aluminum holiday card uses a three-dimensional emboss to create a faceted effect on the snowflake. The embossed snowflake combines bright aluminum with a multi-directional brush and diamond cut accents to create sparkle and draw your eye to it as the focal point of the card. The background combines mechanical finishes with etched detail to complete the elegant silver-on-silver look. The same processes are available to you as you work on your next nameplate or emblem. How would you use a three-dimensional emboss on a logo to add interest to a nameplate?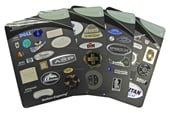 Request a Nameplate Materials and Processes Guide to begin exploring the options available to you in creating your product branding.
Subscribe to Nameplate Blog