Etch and Fill Aluminum Nameplate for Furniture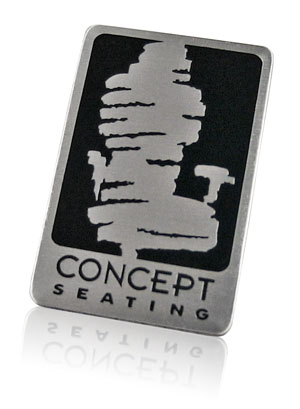 Intensive Use Chairs by Concept Seating represent a committment to providing sophisticated seating with unparalleled durability. The aluminum nameplate used in their product identification reflects this committment.
The etch and fill process is often used in utilitarian applications such as product ID tags where labels are exposed to harsh environments. This utilitarian process is used here to create sophisticated product identification for furniture. Black graphics stand out in high contrast against a brushed aluminum background. The nameplate is manufactured with an adhesive back. Just peel off the top layer and stick to your product.
What other non-utilitarian applications come to mind for the etch and fill process? What other processes would you use to create an attractive nameplate for furniture?
Request samples of nameplates to begin exploring the options available to you in product identification.
Subscribe to Nameplate Blog