3 Selective Gloss Nameplate Options for Product Identification
Application of a selective gloss is used on metal and plastic nameplates to add impact to product identification. Most often a low gloss area is contrasted with high gloss details to create an attractive nameplate. This article focuses on options in selective gloss on metal nameplates.
Metal nameplates are decorated in the flat sheet. Selective gloss is applied to aluminum, brass or steel through screen printing. The combination of high and low gloss printing can be combined with most standard decorative processes including: brush, spin, texture and diamond cutting. The one process that isn't compatible with selective gloss levels is doming. Since doming is high gloss, it cancels out any gloss change that is layered under it. If doming is applied selectively, selective gloss levels would be an option.
Selective Gloss Options in Metal Nameplates
Low gloss clear
Low gloss colors
Low gloss metallics
Low Gloss Clear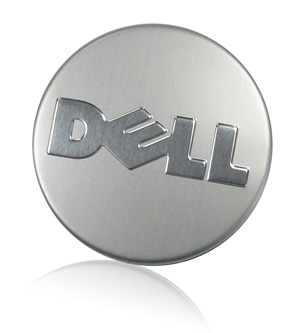 A clear low gloss is the most common selective low gloss option used in nameplates. It guarantees a coordinated and refined look when the same background surface is used in both a high gloss and low gloss finish. There is no need to worry about color matching the two areas. The two surfaces naturally coordinate since they are the same color or finish with only a different gloss level distinguishing them. Embossing helps to further differentiate the areas. The Dell emblem shown here is wonderful example of a selective low gloss clear nameplate. The low gloss is printed on bright aluminum for the background area. Bright aluminum is used for the logo.
An additional option is to use the same low gloss clear on multiple finishes. For example, if you have areas of black and bright aluminum in high gloss, adding low gloss selectively to both gives you the finishes in high and low gloss in one step.
Low Gloss Colors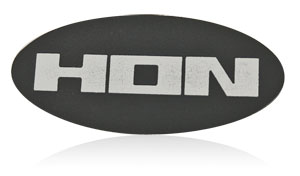 Color added to low gloss creates even greater contrast between gloss levels. The Hon nameplate uses a low gloss black background against bright graphics. Embossing wasn't used on this badge since the brand name is easily read. However, it could be added to add dimension to the piece.
Low Gloss Metallics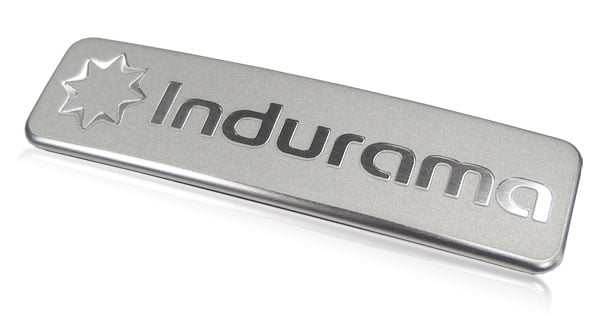 Metallics are naturally low gloss and have the advantage of adding a little sparkle to the finish. Metallics are available in silver, gold and in color. Size of the metal flake determines the overall appearance of the finish. The Indurama nameplate creates a tone on tone look using metallic silver combined with bright aluminum.
How would you use selective gloss to design an eye-catching nameplate? What processes would you combine with selective gloss to make your brand stand out?
Whether clear, colored or metallic selective gloss is an attractive option for adding impact to your product identification. Request samples of these and other nameplates to begin exploring the options available to you in designing a nameplate.
Subscribe to Nameplate Blog