Laser Etched Nameplates, Plaques and Badges
Custom Tesla Founders' Series Plaque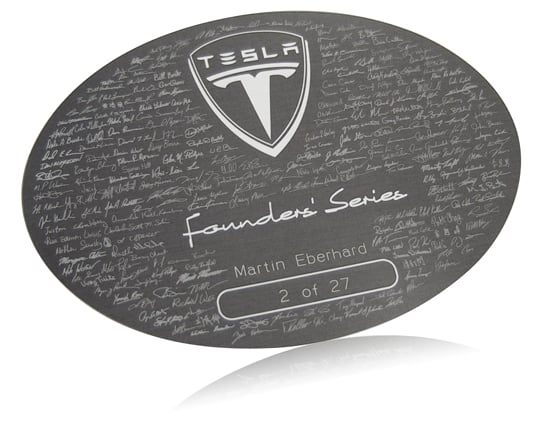 Laser Etched Personalization
Laser etching is used to customize each of the Tesla Founders' Series plaques. The tooling for this aluminum plaque is also used to create a plaque for the Signature One Hundred series.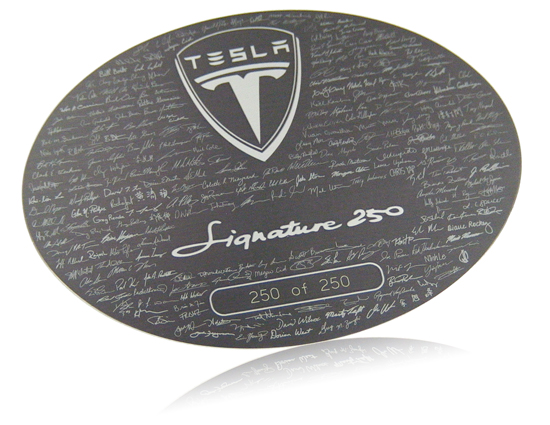 The limited-edition "Signature One Hundred" series Tesla Roadster, the first high-performance electric car manufactured by Tesla Motors, sold out in three weeks. Each customer made a $100,000 deposit to join the Signature One Hundred Club and reserve their Signature One Hundred special edition Tesla Roadster. The Signature One Hundred edition includes a commemorative plaque in the cockpit personalized for the customer and signed by the company's principals.
The personalized plaque is brushed aluminum with a printed transparent grey tint. The founders' signatures and Tesla logo are printed on the metal. A laser is used to customize each plaque.
Laser etching affords customization via serialization, numbering and personalization. A wide range of fonts are available to be integrated into part design. What type of nameplate or badge project might benefit from laser etched customization?
Subscribe to Nameplate Blog