Nameplate Archive: Indian Motorcycle Key Case
Aluminum Key Case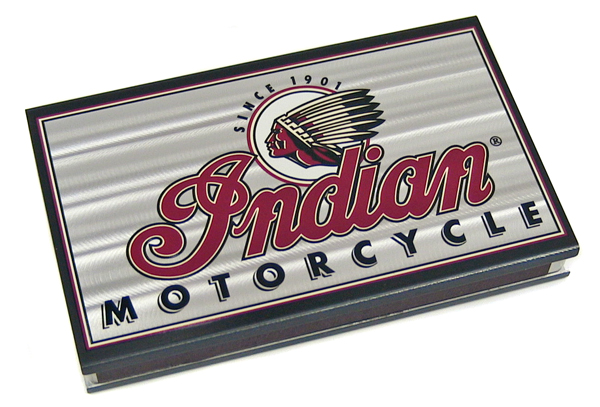 The Indian motorcycle metal case shown here was an accesory for the bike designed to hold two keys. The aluminum box features an engine stripe finish in the background creating a holographic effect and visual depth. The graphics are screen printed on the metal in the flat sheet before it is formed. A protective overlay or mask is also applied in the flat sheet. This protects the aluminum decoration during the tooling operations and shipping. The overlay is removed by the final customer. A formed aluminum tray completes the key case.
The graphics on this case are an excellent example of creating an eye-catching piece without the addition of embossing. Even though the logo is flat, there is no doubt this is a premium piece.
The key box design takes advantage of an existing match box cover tool. This tool was used to blank and form the aluminum cover and tray. The stock was custom decorated with the Indian motorcycle design. This is an example of creative use of a stock die. What ideas do you have for using the match box cover tooling for a custom aluminum box?
Subscribe to Nameplate Blog