RoHS 2/REACH - Material Standards for Nameplates, Labels and Trim
RoHS 2/REACH - Material Standards for Nameplates, Labels and Trim
Manufacturing companies are held to very specific standards with regards to the materials which are used in production. As a result, OEM customers typically require proof of compliance to these standards. This article provides an overview of RoHS 2/REACH as well as conflict minerals.
What is RoHS 2/REACH and Conflict Materials?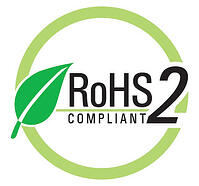 RoHS stands for "Restriction of Hazardous Substance" and came to be part of material standards in Europe in 2003. It calls out 6 materials which may be classified as hazardous substances used in the production of electronic equipment products and its components. Examples of these types of products include large or small household appliances, telecommunications equipment, lighting equipment, toys, sports equipment and automatic dispensers. In 2011, these standards were revised under RoHS 2 Directive 2011/65/EU, expanding product categories to also include medical devices as well as monitoring and control instruments.
REACH is an acronym for "Registration, Evaluation, Authorization and Restriction of Chemicals". Since 2006 this has provided guidelines for production and use of chemical substances in order to regulate potentially toxic substances from being exposed to humans.
Conflict Minerals refers to levels of tin, tantalum, tungsten and gold minerals originating in the Democratic Republic of the Congo (DRC) as outlined in the Dodd-Frank Wall Street Reform and Consumer Production Act of 2010. The Securities and Exchange Commission (SEC) adopted this ruling which requires companies to communicate and identify if the use of these minerals is necessary for the manufacture of products.
How does Northern Engraving ensure compliance?
Material evaluation has been verified through internal controls and information supplied by our suppliers. To the best of our knowledge, our product has no materials above the reportable limits and is in compliance with the RoHS 2 Directive 2011/65/EU. The materials and processes used in the manufacturing of our products do not use the minerals called out as "conflict minerals" in the Dodd-Frank Wall Street Reform and Consumer Production Act of 2010. In addition, Northern Engraving has asked its suppliers to take all reasonable due diligence with their supply chains to assure that their products meet with the legislative requirements for the specified "conflict minerals".
Need to know more? Contact us with your specific question.
Subscribe to Nameplate Blog