Favorite Nameplate | Embossed Aluminum Cosmetic Packaging
Guest Blogger
This article is part of a series of articles from my co-workers on their favorite nameplates. Leah Flock, our guest blogger this week, chose a cosmetic aluminum appliqué with bright color and detailed emboss.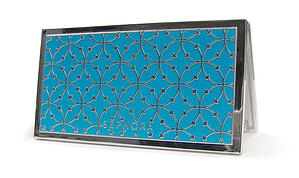 The Sephora turquoise compact insert is a great example of how embossed aluminum can be a decorative element to a part. There is a good deal of embossing involved to create this insert; yet when you handle it, there is a soft and light feel. Leah finds this part makes her think about her grandmother who is partial to turquoise and silver jewelry. Indeed, the detail of the interwoven circles is precise and registered with the striking colored background - all important aspects of a piece of fine jewelry.
Leah Flock Customer Service Representative

Leah is part of the Nameplate Customer Service team who works closely with key accounts and the Sales group to ensure timely processing of quotes and orders.
Does your project need to add dimension and interest?
Subscribe to Nameplate Blog