Stylish Aluminum Bicycle Nameplate
RIH-Cové BV Bicycle Badge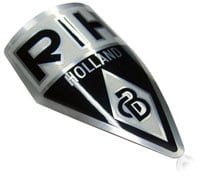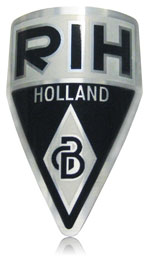 RIH Cové BV is a long-standing European bicycle company, based in the Netherlands. These bicycles are used mainly for racing and are exposed to environmental extremes, including vibration due to gravel roads, various forms of weather, travel and storage. Any time one of these vehicles hits the road, the chance of damage to the nameplate exists. Dirt getting under the edge of the label, adhesive wearing away, a stone chipping away at the decoration - all of these were areas of concern.
Concerns Laid to Rest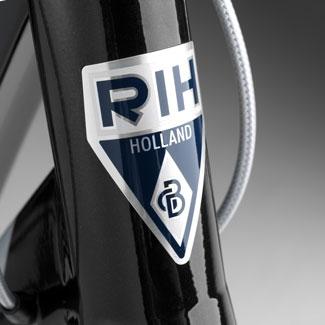 Precise tooling to fit the form of the front tube of the bicycle was needed to keep clean lines between the bike shaft and label. A strong pressure sensitive adhesive suitable to withstand the harsh environment was identified through testing by our Adhesive Technicians. Colors were developed and decoration finalized in prototype processes before settling on the production look. Silver metallic finish coupled with opaque colors provides attractive decoration. The durable, high gloss top coat removes concern for exposure to the elements. Ending result is a stylish, classy nameplate to enhance the brand.
What concerns do you have for your nameplate decoration?
Subscribe to Nameplate Blog