Nameplate Archive | Atheletic Equipment Label
The household name, Spalding, is featured here in the form of a gold nameplate. This nameplate incorporates bright aluminum, gold tint and printed matte black lettering.





Spalding began in 1876 by former major league baseball player A.G. Spalding. Since the beginning, the company has been known as the leader of innovation and quality in sporting goods. This reputation started with the production baseballs and baseball gloves. From there, footballs, basketballs, volleyballs, baseball bats, driveway basketball hoops and golf balls have all been recognized through the Spalding brand. Some of these products also became official sporting equipment of the MLB, NBA, WNBA, Arena Football Leagues and professional volleyball. Though most of us were not fortunate enough to become professional athletes, Spalding equipment graces our garages and driveways.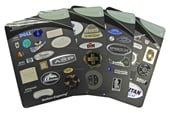 Request a Nameplate Materials and Processes Guide to begin exploring the options available to you in creating your product branding.
Subscribe to Nameplate Blog