Nameplate Color Optimization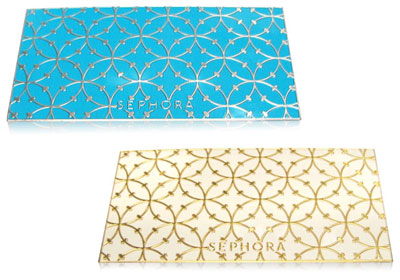 This Sephora nameplate features a dimensional custom pattern highlighted by an embossed surface. As part of its 2009 campaign, the designers chose two varying looks for the encasement of the eye shadow palettes. Each look serves as a representation of the shadows inside.
Shown in two different color options, the blue is the "Calypso Soul Palette" which features five varying tones of eye shadow, including a blue slightly lighter than the cover. To achieve this look, the aqua blue ink is selectively screen printed leaving the pattern one-side bright which is then embossed . The white design is titled "Moroccan Sunrise Palette" and holds five shadows of varying mild brown tones with a metallic shimmer. Utilizing the same tooling, a white dye is paired with the transparent gold embossed pattern.
Although these nameplates are the same size and shape for both options, the color optimization gives a considerably different look and provides an easy product distinction.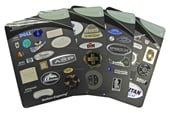 Request a Nameplate Materials and Processes Guide to begin exploring the options available to you in creating your product branding. Custom color matches, texture and assembly are only some of the options in creating your nameplate.
Subscribe to Nameplate Blog