Aluminum Trim and Surface Design Resource
Wide Open Possibilities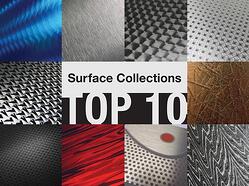 One of the great things about working with aluminum for trim and nameplates is the wide open range of possibilities for what can be done in processing and decoration. For this reason, it can be difficult to wade through all of the options when making decisions and finding just the right treatment or finish to use. To help make sense of it all, the Surface Collections Top 10 have been compiled into an eBook.
Categories included:
● Geometric Structures
● Patina Finishes
● Brushed Aluminum
● Classic Themes
Surface Collections
Top 10
Authentic
Exploration of variety of mechanical finishes on aluminum.
Measured
Combined matte and glossy black or transparent gray with textured technical finishes.
Contemporary Aged
Patina structures in copper and bronze colors with various brushing or textures.
inspiRED
Emotions communicated through use of the color red, achieved with tones, textures and brushing technicques.
Refined
Woven aluminum finishes combine with precise technical structures for dimension and depth.
Transform
Engine spun aluminum provide foundation for finishes to interact and play with light, creating movement and interest.
Unexpected
Combination of metallic and transparent colors for unique decoration.
Bejeweled
Intricate details of fine embroidery and textiles translated onto aluminum for premium looks.
Ascent
Hand forged Damascus steel interpreted onto aluminum for detailed, flowing and one-of-a-kind finishes.
Faceted
Dimensional and 3D effects shown on geometrical structures created with textures and brushing techniques.
Inspiration
This free resource is provided for inspiration and ideally will spur some conversations as you work through your next project. Any of the finishes shown are customizable in size and color. They can also be reviewed for translation and interpretation to other substrates like stainless steel and polycarbonate. You are invited to download a copy for your own reference.
What other resources would be helpful for you? Share your ideas below!