Bejeweled Aluminum Finishes
Metal Trim
Alluring. Flamboyant. Cultivated. The aluminum finishes featured in this video are from our Ornamental mood board. Structures are detailed and intricate whether integrated as an accent border or an overall surface. Alternatively, bold ornate graphics applied subtly create a tasteful dynamic look. Graphic designs flow across the corner or side of trim bursting off the edge. The finishes serve as a starting point for your exploration in creating metal surfaces to be integrated into automotive trim, appliance trim and nameplates. What other applications come to mind for these types of surfaces? We'd love to hear your ideas in the comments below.
Related Articles
Lace and Metal Trim
Asian Embroidered Silk and Aluminum Trim
Favorite Aluminum Finish| Bejeweled Detail
Graphic Image on Aluminum Trim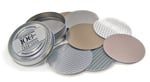 Request a disc collection to begin exploring the options available to you in aluminum surface design.