Asian Embroidered Silk and Aluminum Trim
Custom Aluminum Finishes
A quick look through our library of finishes on aluminum and you'll recognize that inspiration comes from all around us. The metal surface is a blank canvas. Pure aluminum finishes are an option or you can push the envelope with unique custom finishes. Layering processes and effects creates interactive surfaces.
Floral Embroidered Silk Inspiration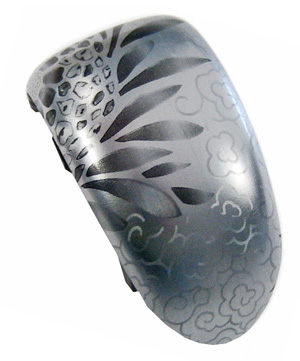 The inspiration for this finish came when one of our coworkers was sharing a beautiful embroidered silk purse that her daughter had bought her while on a trip to Asia. The beauty and detail of the luxurious fabric caught our attention. We knew immediately that this would be a great starting point for an aluminum finish. We began development focusing on interpreting the finish on metal. Our first efforts focused on creating movement, detail and shimmer in the metal finish. This finish uses a combination of mechanical finishes including selective brushing and engine turning. Printed halftones add depth. Texture is used as an accent to add visual and tactile interest. The surface is interactive with layers of processes and color adding to the interest of the finish.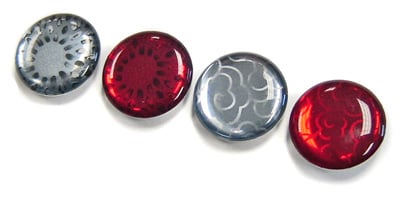 The same finish takes on an even more jewel-like appearance when a urethane dome is added to it. The domed finish can be a small button or an accent strip.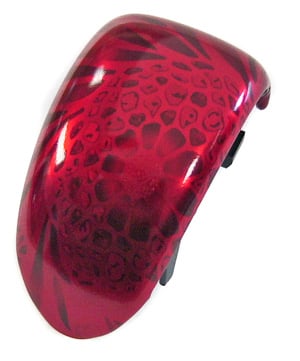 Layering a transparent red tint on the finish changes the look completely. The surface is still obviously metal. Forming the finish emphasizes the natural highlights and shadows in the aluminum surface.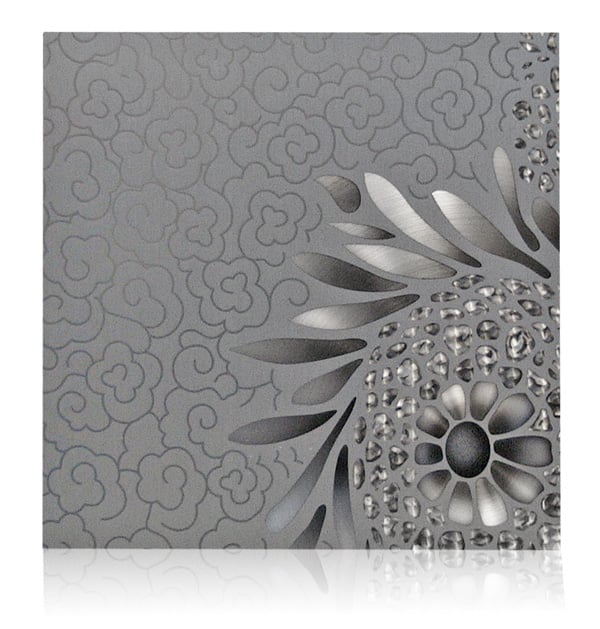 In an interesting twist, this finish served as inspiration for a much larger version of the same finish. This interpretation measures fifteen inches across. Similar processes were used to create a large version of the floral design as elegant as the original embroidered silk.
What surfaces inspire you? Do you have other examples of inspiration from a completely unrelated material translated into another substrate?
Request samples of these finishes to see the detail and movement in these aluminum finishes.