Contrasting Black Aluminum Surfaces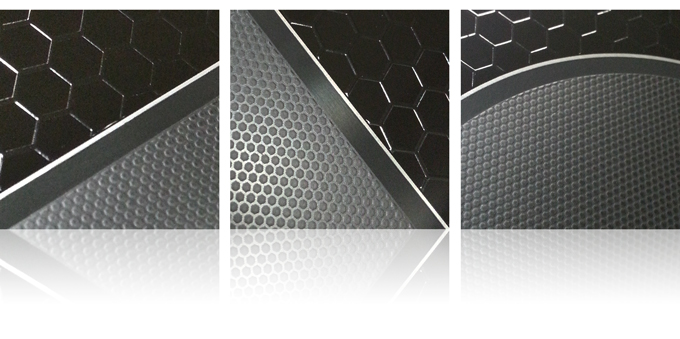 This particular finish features the juxtaposition of surfaces in order to create a customized aluminum finish.
Contrasting surfaces are brought together to create this custom finish. One side features a high gloss clear texture applied over piano black which contrasts with a larger area of low gloss opaque black texture over a dark tint. The texture pattern features a basic hexagon shape with contrasting scales as well as using both the solid shape and just the outline for the textured areas. A high gloss bright bead is placed alongside a tinted black strip to create an appealing break between the contrasting finishes.
This is just one example of the endless possibilities when combining contrasting surfaces in unexpected ways. Exploring varying levels of gloss and scale, along with the use of bright beads are a great way to add interest and create a truly unique nameplate or trim piece.