Custom Patterns Draw Brand Attention for Aluminum Nameplates
Custom Patterns
Many times a background pattern is specified based on its structure and how it works with the rest of the design. Perhaps a linear or dot finish helps to blend the aluminum nameplate or trim with the product housing. There are times, however, when a standard structure just doesn't fit. Yet you want to have some point of interest for the background. What do you do? One option is to create a custom pattern incorporating your logo or brand.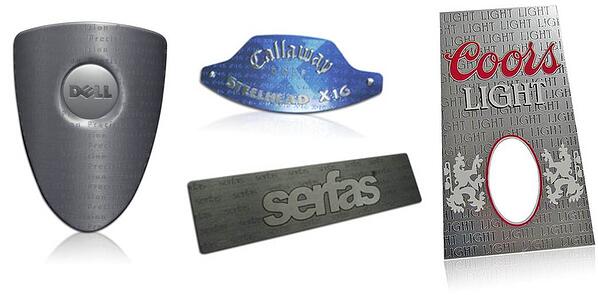 In the examples above, custom patterns were created from the product logo or model name and incorporated into the background of the finished aluminum nameplate or trim piece. This type of decoration combines well with tooling operations such as embossed and diamond cut graphics. It also works well with a flat blanked label. The high gloss texture catches the light and draws emphasis to the product.
Is there opportunity to use your logo or brand name to create a custom pattern?
Related Articles
Adding a Finish or Pattern to a Nameplate
Inspirational Nameplates and Trim with a Pattern
How to Design a Custom Finish