Cost Effective Updates to Aluminum Trim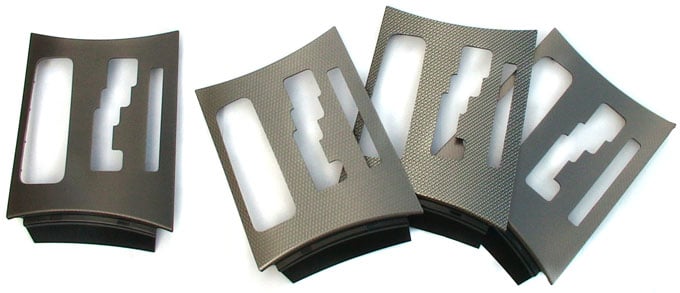 Creating Four Distinct Looks Using Common Tools
The Dodge Charger takes full advantage of the versatility of aluminum by updating the metal finish to create four distinct looks for unique interiors. Both the instrument panel and shifter bezel take advantage of the naturally reflective surface of metal. Brushing and spinning are used to add depth and movement to some of the finishes while others are layered with texture to add dimension. Each offers a distinguishing look for real metal trim.
The four versions of interior trim shown here were manufactured using one set of common tooling. Altering decoration on the metal trim was a cost effective way for designers at Dodge to create distinctly different looks across the Charger line. The shifter bezel further reduces tooling costs by relying on a machining process to create the crisp edge on the openings in the aluminum in-mold trim piece.
The four finishes featured on the aluminum trim represent the flexibility of aluminum as a substrate.
Engine Turn
Dimensional Mesh
Technical
Carbon Weave
Engine Turned Finish
Engine turn, the finish once popular on vintage automobiles, is back. Small overlapping spins are precisely aligned creating movement on this unmistakably metal surface. A transparent gray tint of color aids in creating a coordinated look with with mating chrome and black components.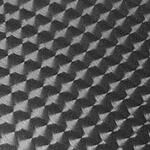 Dimensional Mesh Finish
A dimensional mesh finish took design cues from other materials in the vehicle. The simple mesh texture is layered on a brushed aluminum background. The pattern illustrates the ability to truly customize a finish, drawing inspiration from other materials.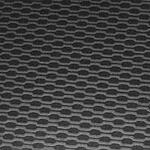 Technical Finish
Crisp precision is rendered in this woven structure featuring selective brushing and texture that combine to create the technical finish. Sharp geometric shapes are intertwined in exact repetition. Close examination reveals the intricate definition.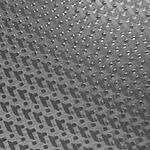 Carbon Weave Finish
This carbon weave finish relies on both brushing and printed texture to simulate the look and movement of an actual woven carbon material. The pattern is one of numerous carbon fiber and woven structures available on aluminum to create the look you require.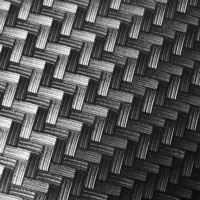 The aluminum finishes shown here illustrate some of the endless opportunities available to you in designing surfaces for metal trim. Simple or precise, you customize the finish adding mechanical finishes, color and texture to create the look that represents your design intent.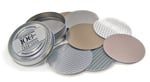 Request a disc collection to begin exploring the variety of finishes available for panels, overlays and decorative trim.