Favorite Finish | A Perfect Design on Aluminum
This week, Billie Theobald, a Regional Sales Manager at Northern Engraving, is sharing one of her favorite finishes on aluminum. There are several patterns and finishes that stood out to her, but this is one example of a favorite.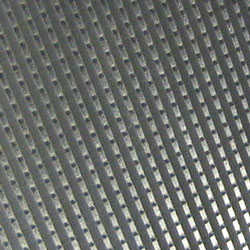 Though many aluminum finishes appeal to me, this particular pattern is a favorite. I feel it is a piece of art that takes advantage of metal finishes to make a statement. It doesn't rely on color to stand out. The design was created using two directions of brush applied selectively. Small areas of bright aluminum are highlighted with a textured dot. There are endless options in combining brushed structures and texture to create authentic metal finishes. My background in printing makes me appreciate the precise registration and consistency of this finish.
Request aluminum finish samples to begin exploring the options available to you in surface design.