Technical Finishes on Aluminum Trim
Geometric Finishes
This short video features some of our most popular technical finishes on aluminum. This series incorporates small scale geometric structures into their design. Brushing and printed texture add to the depth of the finishes. The reflective metal surface adds natural highlights and shadows when applied to contours and forms. The structures are available as an overall surface or to be applied selectively. Bright or brushed aluminum accents combine with the patterns to further enhance the overall look. Customization options include color, scale and process.
How would you use these types of finishes in the background of a nameplate or emblem? What types of product applications come to mind for trim decorated with these finishes? Tell us your thoughts in the comments below.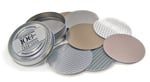 Request a disc collection to begin exploring the options available to you in aluminum surface design.