Silver Surface Collections eBook - Aluminum Finish Resource
Color: Silver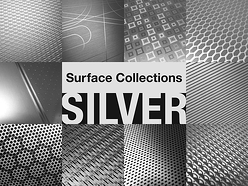 The base color for aluminum is silver. As a result, many finishes begin development taking advantage of that inherent trait. A sampling of aluminum patterns has been compiled into the Silver Surface Collections eBook.
Possibilities include:
● Geometric Structures
● Elegant Combinations
● Brushed Aluminum
● Classic Themes
Silver Surface Collections
Performance
Geometric structures transformed into interactive surfaces with depth.
Simplicity
Authenticity of brushed aluminum paired with soft touch textures.
Precise
Technical layers of brushed, metallic, textured and multiple gloss levels on aluminum.
Origins
Dots and lines repeated on brushed aluminum coupled with high contrast textures.
Technical
Familiar geometric structures built on reflectivity of aluminum.
Graphic
Defined contrast between brushed and bright aluminum. Positive and negative shapes printed in tone-on-tone or black and silver.
Sequence
Precise and deliberate linear structures create look of laser-etch on aluminum.
Elegance
Combinations of bright beads, matte and high gloss blacks interact with opulent silvers create premium looks.
Multiply
Honeycomb structures are explored within a playful theme.
Multilayered
Layers of brushed patterns in geometric structures create dimension and interest.
Inspiration
This free resource is provided for inspiration and ideally will spur some conversations as you work through your next project. Any of the finishes shown are customizable in size and color. They can also be reviewed for translation and interpretation to other substrates like stainless steel and polycarbonate. You are invited to download a copy for your own reference.
What other resources would be helpful for you? Share your ideas below!