3 Weave Patterns for Aluminum Trim Inspired from Ball Point Pen
Inspiration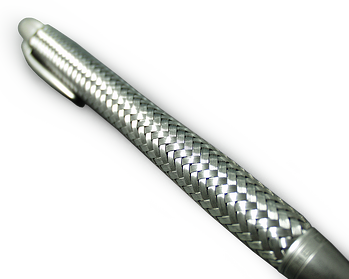 Many visitors to our Design Center ask "How do you come up with these finishes"? Inspiration can come from literally anywhere - every day items that sit on a desk, the texture of a seashell or even the cloud patterns in the sky noticed on the drive in to the office can spark the foundation for the next pattern. It is a treat to be able to see finish development as it progresses from inspiration to sketch to printing trials and finally into tooled parts.
This pen is a great example of that every day item starting a creative discussion and development. Woven metal fibers of the shaft create a unique feel and certainly demands attention. These elements factor into the high perceived value of the pen.
Translation
Translating onto aluminum means interpreting the way the colors blend, how the light plays with the layers and the texture that can be felt. The three patterns shown below result from the translation of the pen. Subtle color changes with printed half tones create highs and lows in the patterns, drawing attention to the layers. Screened textures add a tactile element. While similar in the weave orientation, each has its own twist from the original, providing the look and feel of woven metal.
Where do you find inspiration? How can you incorporate it with your product design?