How to Add a Tactile Dimension to Aluminum Finishes - Choices in Textures
Textured Finishes on Aluminum
Texture adds visual and tactile dimension to finishes while adding to the perceived value of a finish. Printed texture gives you control over not only the look but the feel of your custom finish. Use texture on geometric and technical finishes to add a look and feel of precision. Or add texture to distressed metal surfaces to add to the realism of the finish. The possibilities are limited only by your imagination.
Process Options
Adding texture to aluminum finishes is a versatile option. It is available colored or clear in high or low gloss. The options are multiplied when you consider the endless possibilities in pattern design. Some refer to printed texture as puff ink. It is a urethane screen printed on the metal and cured.
This is the fourth article in a series of articles focusing on designing custom finishes. In this article I will cover options for integrating texture into aluminum finishes.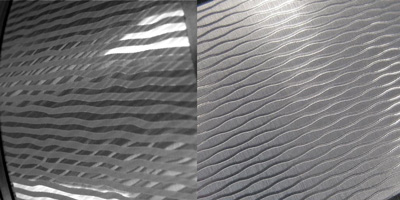 Clear Texture
Clear textures are available in high or low gloss. When printed over colors they create a tone on tone effect.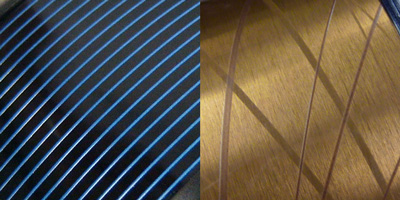 Colored Texture
Colored textures are available in high or low gloss. They can be used to create subtle or high contrast looks.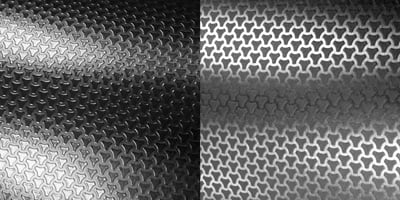 High and Low Gloss Textures
Carefully consider the gloss level of the background finish when choosing the gloss level of the texture. Use similar gloss levels for subtle effects. Contrast the gloss levels for more definition of the pattern.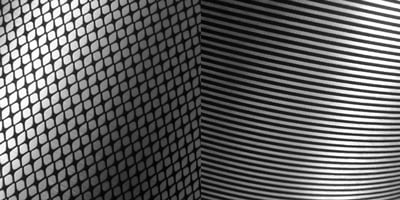 Hard and Soft Textures
Hard or rubber soft texture is available on aluminum finishes. The rubber soft texture can be used to create a contrast between the soft feel of the texture and the cold look of metal. You can also use the soft feel texture over opaque color to give the look and feel of fabric.
Additional information on options in designing a custom finish are available in the following articles.
How to Design a Custom Finish - 3 Building Blocks of Aluminum Decoration
How to Add Depth and Movement to a Finish - Understanding Options in Brushing on Aluminum
How to Add Color to an Aluminum Finish - Options in Printing on Metal
Request samples of aluminum finishes to begin exploring your choices in adding tactile dimension to surfaces.