Intricate Decorative Aluminum Trim

Design intent for the decorative aluminum trim plate was to create an intricate layered look conveying precision and sports luxury. The final design utilizes an alternative approach which integrates layers of processes combined with mechanical finishes to create the in-laid metal design. The aluminum trim showcases decorative aluminum processes creating an eye-catching option for interior trim.
Selective Brush
Small areas on the trim piece feature our selective brushing technique. The chosen areas are brushed in the opposite direction of the overall brush that spans across the part. A few of the inlaid areas also feature the base bright aluminum substrate with no brushing added. The combination of 2 direction brush and bright aluminum areas allows each surface to catch light and reflections differently, creating movement.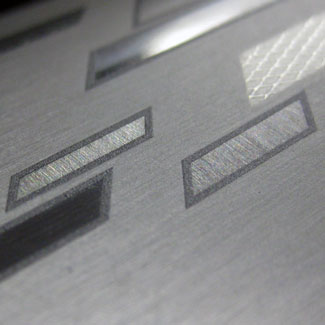 Engine Stripe
Engine striping is a mechanical finish that creates a distinct look with a lot of visual depth. To create an engine stripe pattern on aluminum, arcing brushes that face in the same direction polish the metal to the desired length and width. Generally this is an overall process, but in this case it is applied to selective areas further building on the unique movement already created with the selective brushing.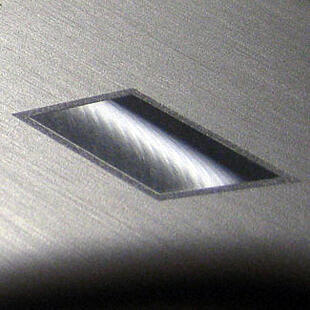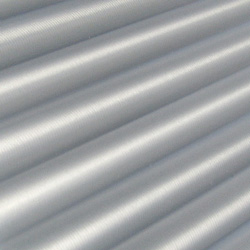 Selective Texture
The selective texture below resembles a knurled finish. To create this look on aluminum a diamond shaped pattern is printed onto the metal with a clear ink creating a raised texture. This pattern provides precision and detail while contrasting with the overall brushed pattern on the aluminum part.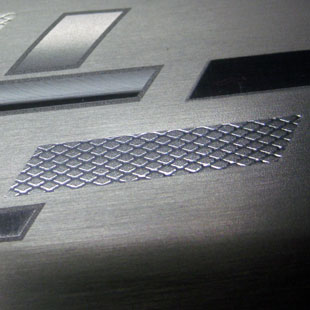 Selective Gloss
Adding a little sparkle to the trim piece is accomplished through the application of a selective gloss. The majority of the part is a brushed background featuring a matte gloss. Applying this gloss selectively allows some of the inlaid areas to remain high gloss. The combination of high/ low gloss areas creates a subtle tone-on-tone look.
The processes applied to aluminum shown here illustrate some of the endless opportunities available to you in designing surfaces for metal trim. Simple or precise, you customize the finish adding mechanical finishes, gloss and texture to create the look that represents your design intent.
For more on the decorative trim options used on this project, click here to view the case study.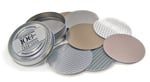 Request a disc collection to begin exploring the variety of finishes available for panels, overlays and decorative trim.