Aluminum Trim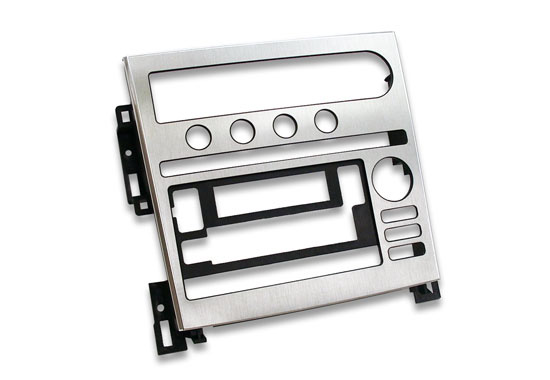 Aluminum trim integrates authentic brushed metal finishes, geometric structures, patinas, woodgrains and custom finishes into simple or complex shapes. We are often asked how we do this. Many assume that color and graphics are added after forming the metal. This is not the case. All of our decoration is done in the flat sheet. This facilitates tight registration of graphics or accent beads to openings in the trim or an edge of the part. Decorating flat sheets also allows alignment of a finish as it flows across mating parts. Specific areas of a finish can be chosen, for example a particularly interesting area of a woodgrain, to maximize the impact of the finished part. Each part will then be printed with the exact same area of woodgrain.
Aluminum Trim Manufacturing
Aluminum is decorated in the flat sheet. The metal is formed after decorating. If the trim component includes a plastic carrier it is crimped around the plastic or in-molded.

1) printed texture: (optional) high or low gloss, colored or clear
2) topcoat: protective layer which also determines gloss level of the finish
3) decoration: inks/colors applied via lithography, screen printing and roll coating
4) mechanical finishes: (optional) brush, engine turn, engine stripe, spin
5) aluminum: mill finish or bright aluminum
6) plastic carrier: (optional) aluminum in-mold or crimped metal
A library of finishes serve as inspiration and a starting point for creating custom finishes on aluminum trim. The surfaces can be customized in color, scale and process. Or you might pull one off the shelf to be integrated into your trim. The finishes can be applied overall or selectively. Multiple finishes, for example a woodgrain and brushed aluminum, can be combined into a trim piece. The result is a premium look without the cost of multiple components. Graphics, functional or representing a brand or model, can be integrated into trim. Embossing the graphics adds to the premium look and can be used to give the illusion of a separate badge attached to the trim.
Aluminum Trim with Plastic Carrier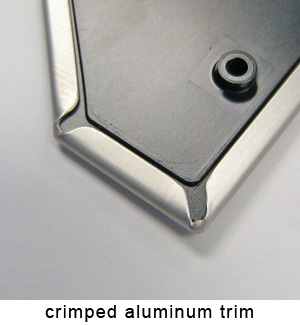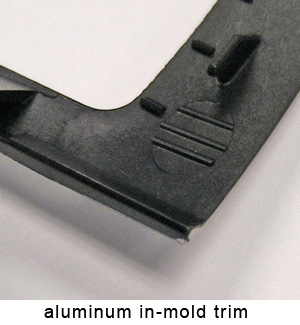 A plastic carrier adds rigidity to decorative trim and often includes attachment features. Most automotive trim includes decorated aluminum attached to a plastic carrier. The crimping process is used when an edge of the trim is visible in application (i.e. door rail, instrument panel). The aluminum in-mold process is a robust process providing superior dent resistance. Applications include center consoles and sill plates. There are additional advantages and considerations in deciding which process is appropriate for a specific piece of trim or application. Our engineering group is available early in programs making recommendations for improving part design and lowering costs.
Aluminum trim isn't limited to the automotive industry. The appliance industry uses the both the crimped and aluminum in-mold process in ice and water dispensers. You'll also find aluminum in consumer products and electronics.
Have more questions? Let's talk!