Sporty Mechanical Aluminum Finishes
Light-reflective engine turned surfaces play with light adding an interactive component to finishes. Glossy transparent tints of grey take the glitz factor down a notch for a refined sporty feel.
(from left to right, top to bottom)


DES-1050-AT, DES-868-D, DES-110-A, DES-1050-AS, NAS-441-J, NAS-441-B

*patterns not shown to scale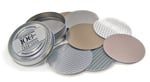 Request a disc collection to begin exploring the variety of finishes available for panels, overlays and decorative trim.