Stylish Aluminum Finishes
A contemporary ensemble featuring symmetry and flowing lines. Simple clean design combines technology and material to create modern surfaces.
(from left to right, top to bottom)


PAT-4113-A, PAT-1604-N, PAT-3971-A, PAT-4324-D, PAT-3940-B, PAT-3545-A-1040

*patterns not shown to scale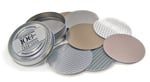 Request a disc collection to begin exploring the variety of finishes available for panels, overlays and decorative trim.