Aluminum Finish Inspired by Hexagon Shapes

The Inspiration
Picking up on the popularity of geometric shapes took us on an exploration of layering hexagon shapes. Hexagons stack nicely next to and on top of each other which made a natural focus for the positive and negative space to become the basis for trial and development.
Translated to Aluminum
A stepped honeycomb pattern is layered and offset with the negative and positive space brushed in opposing directions. A pinstipe texture is applied to give the pattern a feel and add even more dimension. The result is a finish which appears to move and fade in or out depending on the viewing angle.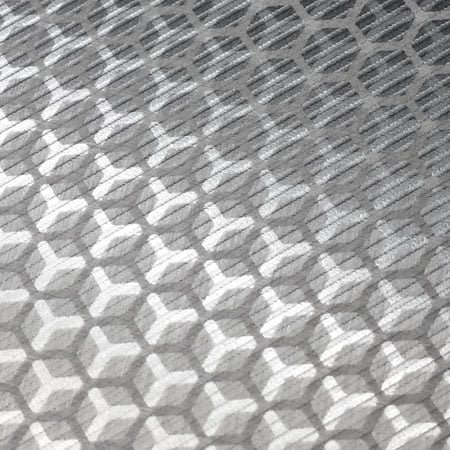 Image: PAT-4881-A
This is just one of the featured finishes in the latest Designer Disc Collection. Have you received yours yet?
Related Posts Featuring Hexagon Geometric Structures on Aluminum Surfaces
Layered Honeycomb Aluminum Finish
Multiply Aluminum Surface Collection
Multi-Layered Mood Board
Dynamic Mood Board