How to Dress Up Brushed Aluminum with Patterns
Dress Up Brushed Aluminum with Patterns
Simple brushed aluminum provides a classic and clean look for decorated trim as well as nameplates and brand identification. While this is attractive, there is opportunity to capitalize the surface area to include intricate patterns and finishes. This opens opportunity for design to be sporty or playful. It also creates an avenue to add a bit of interest or accent an area of the piece of trim.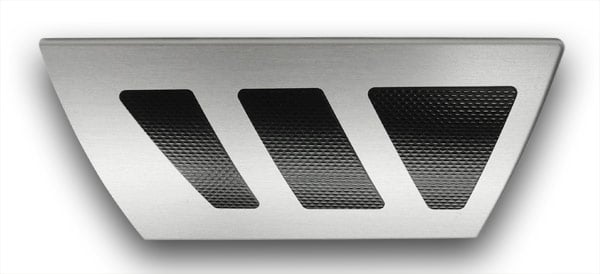 I really like the subtle accent that the pattern gives to this piece of aluminum trim. From a distance, there simply appears to be black geometric shapes on a piece of brushed aluminum. A closer look, however, and you can see the pattern in those areas. It is an unexpected detail which takes the trim from something basic to a premium piece, increasing the perceived value of the product.
While this part uses a micro dot pattern which speaks to a sporty look, a completely different feel could be achieved using a faux woodgrain or stone pattern. Or instead of a pattern with a texture, a selective engine stripe could be incorporated. Changing up the pattern style is one way to maximize the tool investment and differentiate between models of a vehicle or product.
How would you dress up brushed aluminum trim? Let's talk!