Custom Woodgrain Finish on Automotive Trim
Eucalyptus Woodgrain | Chrysler Pacifica Interior Trim
Our library of woodgrains on aluminum includes a wide variety of woods and woodgrains. We have decades of experience interpreting the different types of woods in the world and their characteristics in terms of grain, texture, color and figure on to aluminum. Designers can work from any of our existing woodgrain finishes to customize a woodgrain surface for their aluminum trim. Custom matched woodgrains using real wood as a starting point are also an option.

The eucalyptus woodgrain chosen by Chrysler design for the Pacifica aluminum trim is unique in that it is has the same depth and movement seen in real wood. The eucalyptus woodgrain had crossfires which are a reflection of light. Matching this effect required a layering of printing to create the movement. The finish was included on door rails and across the dash.

The finished parts include the wood grain accented by a satin silver finish. There is a debossed bead between the two finishes giving the illusion of being two separate trim pieces. This option allowed the designers to meet the design intent while staying within budget.

Interest in aluminum woodgrains reflects an increased need for cost-effective and environmentally sustainable alternatives to native and exotic hardwoods. The printed woodgrain also allows flexibility unmatched in real wood. For example, the structure of this woodgrain was curved slightly to follow the arching line of the instrument panel. The result is a woodgrain finish that flows naturally with the shape of the part. The Chrysler designer chose the exact area of the woodgrain for optimum aesthetics. Our designers then gently altered the woodgrain.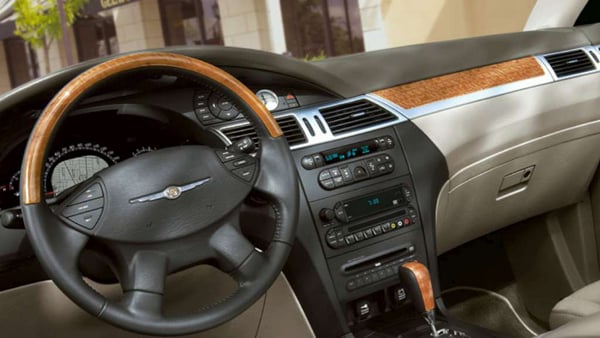 See for yourself the depth in this aluminum woodgrain finish by requesting samples. Explore the possibilities of woodgrains on aluminum.
What are the trends in woodgrain colors and strucures that interest you? Can you see these being integrated into trim?