Metal Laminates and Decorative Metal Architectural Products
Architectural Metal Surfaces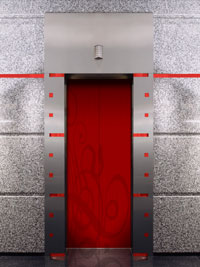 view larger image
Our design studio recently hosted a group of visitors from the architectural industry. We spent time reviewing mood boards and finishes from our pattern library. It is always interesting to hear reactions our wide variety of aluminum finishes and discuss their potential application. Much of our discussion focused on textures and surfaces for metal wall coverings, column covers, elevator cab panels and ceiling tiles. One focus of our discussion was the popularity of tattoo designs or large scale graphics flowing subtly across metal. We've seen interest in this trend in large appliances, automotive trim and laptop covers. This photo shows a tattoo design applied to metal elevator doors. The potential with this approach is limited only by your imagination. Options include custom graphics in your design (modern, elegant, classic or bold). The surfaces can be translated in bronze, brass and copper finishes or bold transparent tints of color.
Northern Engraving manufactures solid metal laminates for Gage Architectural Products. The large format metal surfaces are available in solid aluminum or stainless steel with thicknesses ranging from .025" (.60 mm) to .124 " (3 mm). Request finish samples to begin exploring the possibilities available to you in surface design.
What other applications come to mind for metal laminates? What other finishes would you like to see in large format? Tell us what you think in the comments below.