Crackled and Weathered Finish on Aluminum Trim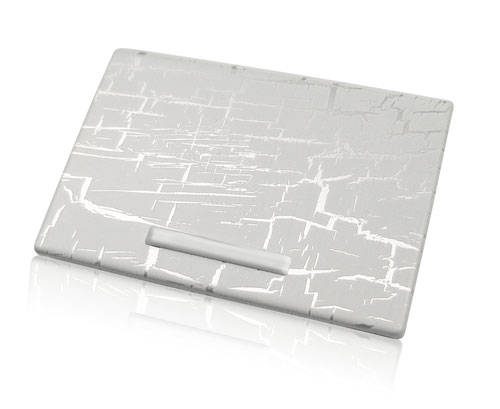 Scuffed and dusted treatments are seen in fashion, furniture and the products we use every day. Further exploration into faux surfaces is a constant in our Design area. Experimentation with finishing effects often combines contrasting elements for unique looks. The crackle-effect finish brings together a weathered surface with reflective metal. The faux painted surface is scuffed and crackled. Try combining this finish with high gloss bright aluminum or a brushed tint to further push the combination of opposing surfaces.
Other examples of faux finishes on aluminum include patinaed metal and rubbed or worn leathers with an aged quality to them. All can be customized in color, scale and gloss to meet your product branding needs. How would you incorporate this type of surface into an appliqué or trim piece?
Request samples of aluminum finishes from our pattern library to begin exploring the breadth of possibilities available to you in creating a finish for decorative trim or nameplates.