2018 Aluminum Holiday Card
Many of our patterns and finishes on aluminum are created with layers of decorative processes. A popular technique is to make use of selective areas of mechanical finishes - stripes, spins, and brushes on the surface of the metal. The resulting decoration has movement and depth which can then be built upon with transparent tints of color and printed tones for detail.
Layers of Decorative Processes on Aluminum
Layering of processes is the foundation for this year's Holiday Card. This is a beautiful showing of the possibilities for adding areas of interest as well as visual depth and dimension without additional tooling investment.
Mechanical Finishes Create Movement
Incorporating areas of spin and selective brushing creates an optical effect where light is reflected off the surface of the metal at various angles. The resulting movement is a way to catch attention without being too bold. At this point, there is little separation between the background and the tree. The goal here is to create movement and visual interest.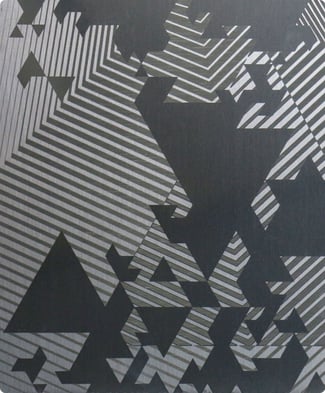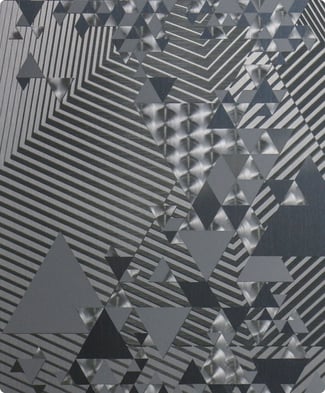 Gradient Halftones
Adding a halftone to aluminum serves the purpose of creating visual depth. In the case here, black halftones are used to create a subtle hombre on the edges as well as giving the illusion of some of the triangles on the tree either popping off or receding into the tree.
Transparent Colors
Tints of color are applied giving you a tone on tone effect as the color reflects differently over the various mechanically finished surfaces. Two separate transparent greens are used. The lighter green is selectively printed over the tree in order to give further separation from the background.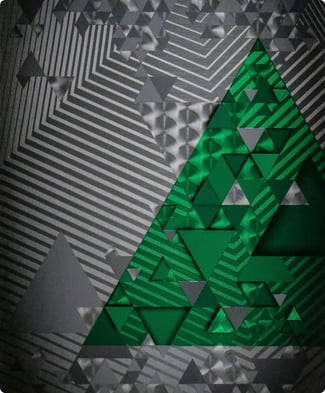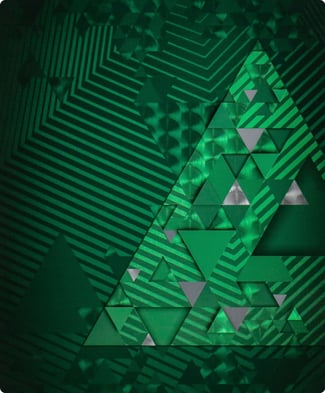 High Gloss Background and Metallic Ink Text
An overall hit of high gloss topcoat gives a high sheen and allows the decoration underneath to pop. Text is printed with a dull metallic ink to finish off the design.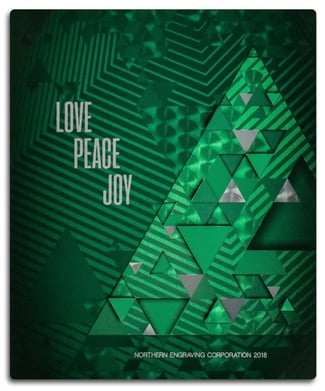 Related Posts
Using Halftones with Mechanical Finishes to Create Visual Depth
Gradient Patterns on Aluminum Trim
Popular Finishes and Structures from Pattern Library