Simply White Decorative Aluminum Finishes
Simply White has been named 2016 Color of the Year by Benjamin Moore. White as a color for finish development on aluminum is versatile. It can be used as a main color or simply as an accent. Change the gloss level and the result is visual interest. Include some texture and achieve tactile dimension.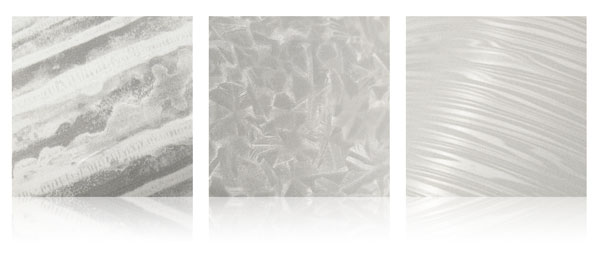 This set of mood boards provides inspiration centered around white-on-white patterns on aluminum accented with subtle metal detail and layers of crips whites, creams and ivories.
These finishes can be incorporated into decorative trim or nameplate designs. The possibilities are endless.
Find additional exploration of white finishes on aluminum on the following mood boards.

Beautifully sublime patterns and abstract designs with influences from nature.

Enamel white finishes layered with texture and aluminum details are cool and calm.
Related Posts for White Finishes on Aluminum
Enamel White Finishes on Aluminum Trim
Custom Aluminum Finish for Large Appliance Trim
Warped Hex Finish on Aluminum Trim
Defined | Aluminum Surface Collection
How will you use white finishes in your next design? Let us help!