New Series of Aluminum Finishes Exploring Hexagon Shapes
Shape-shifting results in a flowing aluminum surface that evolves with the part, illustrating attention to detail in design. Individual elements in these patterns change as they move across the surface.
In the new series of aluminum surface mood boards, Push, Order and Twist, we explored the hexagon shape. This pattern was chosen because of its playful, honeycomb and tri-lobal shape.
We have seen a trending demand for patterns that evolve across product design. This idea could be applied with many other elements, from a simple dot pattern to a pinstripe.
Hexagon mood boards prove that aluminum patterns relating to the shape or contour of a trim piece are an area of surface exploration that is exciting and presents endless possibilities. We wonder where our next inspiration will come from. Any suggestions?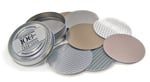 The designer disc collection features a cross-section of finishes on aluminum. It begins to illustrates the versatility of aluminum as a decorative substrate. The pattern samples are labeled for easy identification. The discs are useful when designing a custom finish. Request a disc collection to begin exploring the variety of textures and finishes available for nameplates and labels