New Aluminum Finishes | White on White Accented with Metal
Pattern Development on Aluminum
Constantly working to explore the possibilities of aluminum as a decorative surface, we develop new surfaces to be integrated into decorative trim for automotive and appliance applications. The finishes can also be applied to consumer electronics or nameplates. They are the seed, the starting point for your creative exploration of the substrate.
New Aluminum Finishes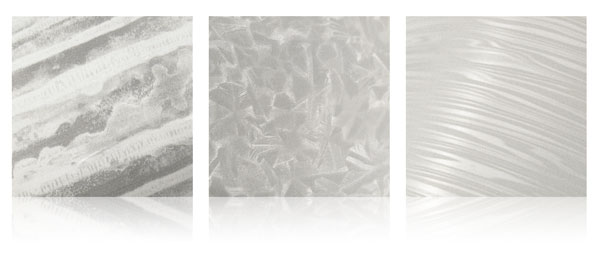 Our latest venture on aluminum explored white-on-white accented with subtle metal details. Careful layering of crisp whites, creams and ivories add depth to this clean palette. Waves in water, ripples in sand and patterns of grasses are all inspiration for this airy white theme. Structures are printed in translucent layers on aluminum contrasting the serene with the authentic metal surface.
White Out Mood Boards
The white finishes are brought together here in two new mood boards. The mood boards combine aluminum finishes, text and photos to tell a story of soft organic structures.
Find additional exploration of white finishes on aluminum on the following mood boards.

Pure | Aluminum Finishes
Beautifully sublime patterns and abstract designs with influences from nature.

Modern | Aluminum Finishes
Enamel white finishes layered with texture and aluminum details are cool and calm.