Aluminum Trim
Variations on finishes available on aluminum trim are endless. Inspiration for surfaces is taken from all around. The finishes shown here are part of our series of finishes inspired by athletic equipment.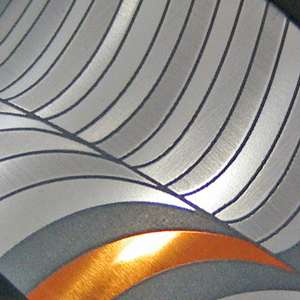 The wave graphic inspiration might have come from a surfboard or snowboard or atheletic apparel. The aluminum interpretation of movement features brushed and bright aluminum with a grey tint and a bright accent of transparent orange color. Low gloss grey texture is used to define the image and add a tactile effect. I could see this finish on a laptop or cell phone. It might be translated into automotive trim. Where could you see this finish used? What other athletic equipment gets your creative juices going?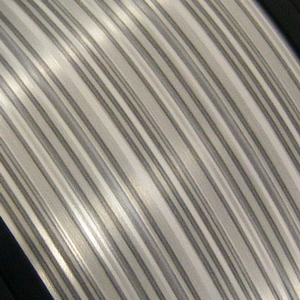 This aluminum pinstripe finish has an organic linear quality in that it includes stripes in a variety of widths. The stripes are randomly spaced and overlap each other.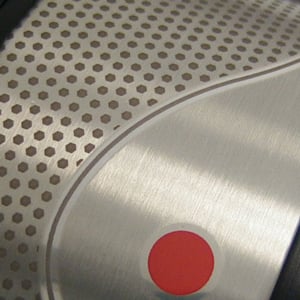 A simple technical finish made of repeating hexagons takes an unexpected twist when combined with a meandering swatch of brushed aluminum. This is an example of the flexibility aluminum offers. Combining multiple finishes into one trim piece can be used to create unique trim which increases perceived value. Multiple finishes can be combined creating the illusion of two or three parts. This is a cost effective option for creating a premium look.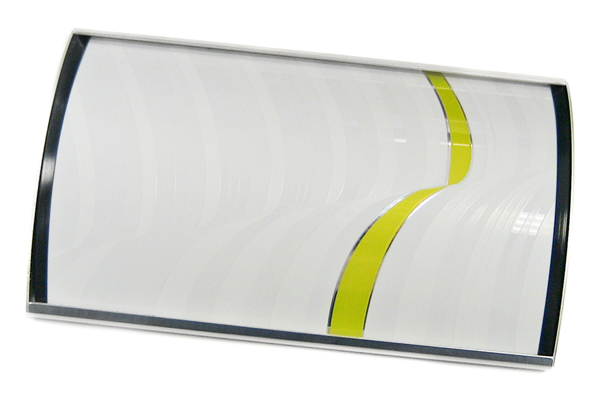 The wave pattern from above is further explored here as an opaque white with multiple gloss levels and textures. This type of process has been used in custom finishes for large appliance panels. The bright accent of green is outlined with bright aluminum. How about this on your next refrigerator?
Where do you get your inspiration for patterns? Let's talk!