Soft Touch Texture on Aluminum Trim
Soft Touch Rubberized Texture
One of the many options available when screen printing a texture on aluminum is soft touch. The rubberized feel stands in contrast to the metal surface. Since it is a printed process, soft touch can be applied in any number of patterns from dots and ellipses to pinstripes and grids. Soft touch is screen printed in clear or with color added to the texture. The finish can be applied selectively and combined with other finishes.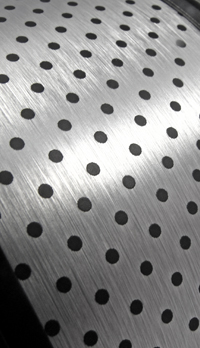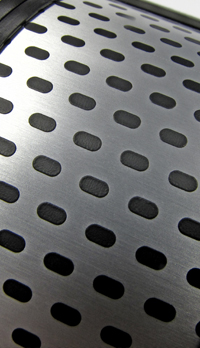 The geometric patterns shown here utilize a black soft touch contrasting with low gloss brushed aluminum. The mixing of cool metal and soft touch texture result in visually and tactilely appealing surfaces. The aluminum finishes would be appropriate for a number of applications including automotive, electronics and sporting equipment. You might consider applying the finish selectively to an area of the trim that is touched frequently.
What patterns or surfaces would you like to see explored with a printed soft touch? What type of products would you integrate this type of finish into?