Favorite Finish | Rich Color Tones on Aluminum Trim
Guest Blogger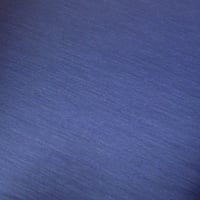 This article is part of a series from my co-workers on their favorite finishes. Sharon Olson, our guest blogger this week, chose a transparent tint over brushed aluminum. This is a great example of how elegant, yet soft decorated aluminum can be. Transparent tints often can take on the appearance of an anodized surface. A selective area of a transparent tint can provide accent for a border or coordinate with a seconary pattern for interest and layers of decoration.
Your direction for color target plays a large role in the finish development. The color can look very different depending on if a mechanical finish is used to enhance the aluminum or the gloss level that is specified. In the end, it's part of the story of your project coming to life and the finish can be one of the main characters to tell your story. Bold or subdued, high gloss or low - options for colors to use when decorating aluminum are just about as wide open as the rainbow spectrum.
DES-1395-A has a rich blue tone which naturally draws your attention. I also like it since it plays to my favorite color - blue!
Sharon Olson Customer Service Representative

Sharon is part of the Nameplate Customer Service team who works closely with key accounts and the Sales group to ensure timely processing of quotes and orders.
What is your favorite finish? Share your thoughts below!